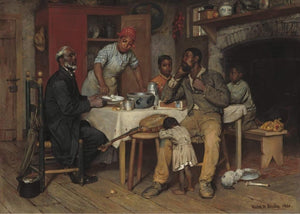 Bring the museum to you with this Richard Norris Brooke classic, A Pastoral Visit.
A Pastoral Visit, the most celebrated of Richard Norris Brooke's genre scenes, or views of everyday life, depicts a family welcoming their elderly pastor to Sunday dinner. A frequent occurrence in both black and white parishes that could not afford parsonages. 
Brooke was one of many artists to depict African American life in the 1870's and 1880's, inspired by the dramatic social change during Reconstruction, when blacks achieved citizenship, voting rights. and protection under the US Constitution. 
MINT decoupage papers have been created especially for furniture art and refurbishment. Each design is available in two sizes, A1 and A3 and printed on stock specifically chosen for decoupage. Our papers have been meticulously chosen to ensure your projects become works of art on completion.
Mint decoupage papers come with comprehensive instructions.
Papers may appear larger/smaller in the web preview than they actually are. 
A3 - 11.7" x 16.5"
A1 - 23" x 33"