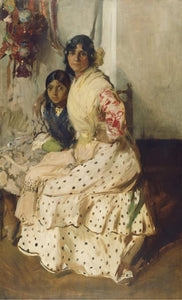 Bring the museum to you with this beautiful Joaquin Sorolla y Bastida painting (1910). Bastida was a Spanish painter (1863-1923) and excelled in the painting of portraits, landscapes and monumental works of social and historical themes. His most typical works are characterized by a dexterous representation of the people and landscape under the bright sunlight of Spain and sunlit water.
MINT decoupage papers have been created especially for furniture art and refurbishment. Each design is available in two sizes, A1 and A3 and printed on stock specifically chosen for decoupage. Our papers have been meticulously chosen to ensure your projects become works of art on completion.
Mint decoupage papers come with comprehensive instructions.
Papers may appear larger/smaller in the web preview than they actually are. 
A3 - 11.7" x 16.5"
A1 - 23" x 33"